---
The efficient family of LED tubes for retrofit or
conversion
Product description
The series 02 is a universal LED tube which can be used both as a retrofit (exchange for KVG / VVG) or as a conversion variant (direct current supply).
The excellent current management and the modern circuitry, using ceramic components, ensures exemplary temperature management and therefore guarantees a long service life.
For this reason, the Series 02 LED tubes are reliable sources of light with a high efficiency and help to save more than 60% of the energy expenditure compared to a classic fluorescent tube.
Applications
The application areas for series 02 are:
Offices, practices
Public buildings
Schools / kindergartens
Logistics and storage areas
Exhibition building
Sports halls
Underground garages / car parks
Product advantages compared to regular LED panel
Made in Germany
Adjustable end caps (180 ° rotatable)
Lower temperatures in the LED tube guarantee better LED performance
Printed circuit boards, no delicate solder joints (vibration resistant)
High efficiency up to 139lm / W
Robust construction - robust housing, aluminum / PMMA, splinter-free
UV-resistant plastic covers (thus no fading of the cover)
Use as replacement bulbs (retrofit)
Use with direct current supply (conversion)
No mercury, no IR and UV content
Full LED binning - guarantees color fastness and color balance even after new acquisition
Easy installation - Plug & Play
Technical specifications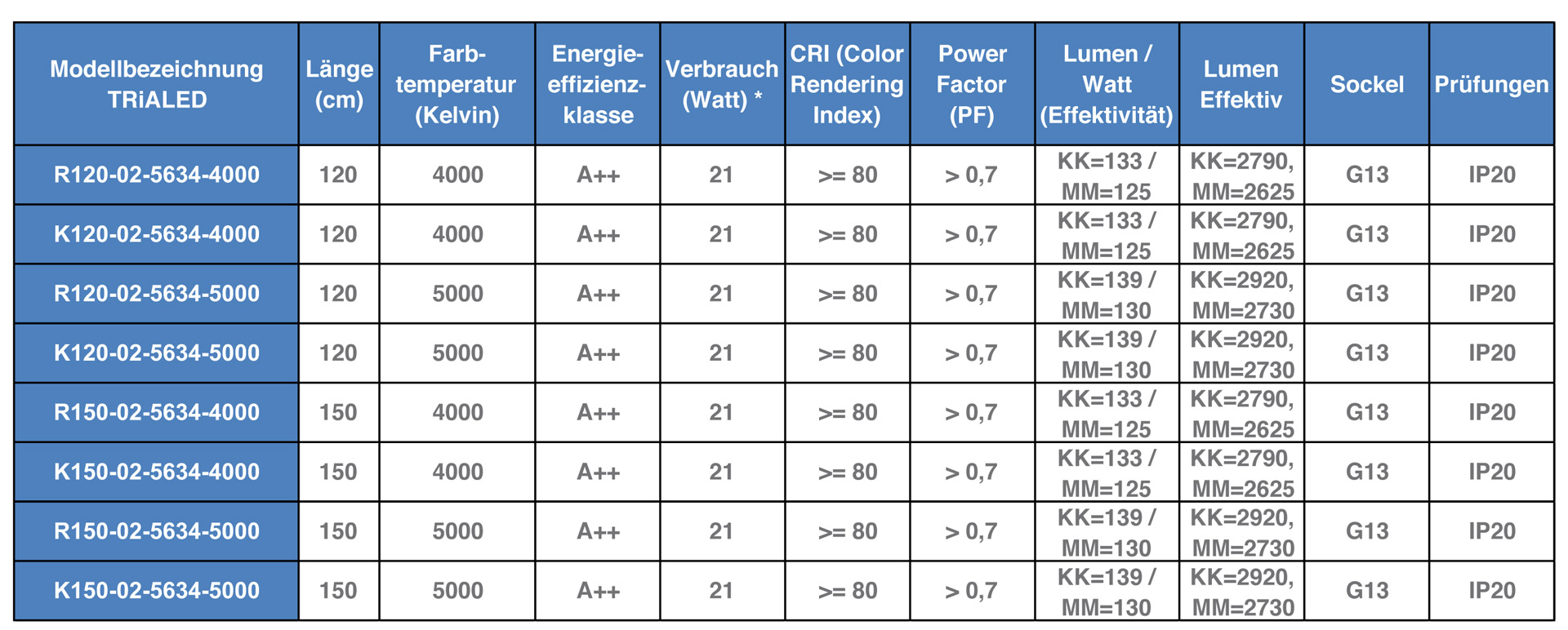 The series 02 is available in lengths of 120cm and 150cm and in the Wattage 21watt. A clear (KK) or milky (MM) coverage is available. You can choose between the retrofit (R) or conversion variant (K) when ordering.
The standard light colors of the series 02 are 4000 Kelvin and 5000 Kelvin. Other light colors are available on request.
The series 02 is distinguished by its excellent temperature management and thus guarantees a long-term and reliable use. The diagram opposite shows you a conventional control (top circuit board with connecting cables) as well as the control based on ceramic components of the Plastimat series
The warranty period for series 02 is 36 months at max. 84 week hours of burning time. The LED life is 50,000 hours (L80B10).